5,56x45
7,5mm Nagant
38 Special
9x19
9x20
6,5x55
7,62x51
7,62x54R
8x58RD
&nbsp Ball
&nbsp -Box
&nbsp Blank
&nbsp Inert
&nbsp Training
7,92x57
8x63
Jarmann
11x17
45 ACP
11mm Pin fire
12,17 Remington
12,7x81SR
12,7x99
13x92R
13,2x99
Experimental ammunition
Commercial ammunition
Special purpose
Krevadpatron
8x58RD


IDnumber: 315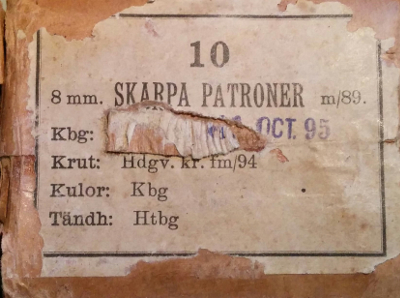 This box of 10 pce 8mm ammunition is manufactured in October 1895 by the Karlsborg factory with projectiles from the Karlsborg ammunition fabrik and primers from "Htbg" (still to be interpreted, Hirtenberg?).
The gunpowder is stated as "Hdgv" powder model fm(försöksmodell, trial model) 94.

Courtecy Peter D of Öland Collection.
IDnumber: 314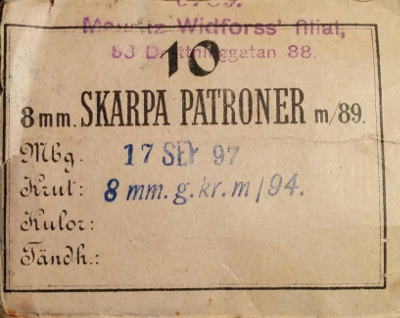 This box of 10 pce live cartridges m/89 is manufactured in September 17 of 1897 in the Marieberg factory. What is extra interesting is that it is loaded with rifle powder 8mm model m/94.
That is a interesting statement as it points at the introduction year of 1894 of the smokeless powder for the 8mm round, and it seems to differentiate from the rifle powder used in the 6,5x55 cartridges. I hope to find a written source one day showing the specifics.

Courtecy Peter D of Öland

---

Copyright © 2000 Chris
The Swedish military ammunition site

Pcs published: 2