5,56x45
7,5mm Nagant
38 Special
9x19
9x20
6,5x55
7,62x51
&nbsp Ball
&nbsp -Box
&nbsp Tracer
&nbsp -Box
&nbsp Blank
&nbsp -Box
&nbsp Inert
&nbsp AP
&nbsp -Box
&nbsp Grenade
&nbsp -Box
&nbsp Incendiary
&nbsp Training
&nbsp -Box
&nbsp High pressure
&nbsp Pack test
&nbsp All ammo
7,62x54R
8x58RD
7,92x57
8x63
Jarmann
11x17
45 ACP
11mm Pin fire
12,17 Remington
12,7x81SR
12,7x99
13x92R
13,2x99
Experimental ammunition
Commercial ammunition
Special purpose
Krevadpatron
7,62x51


IDnumber: 103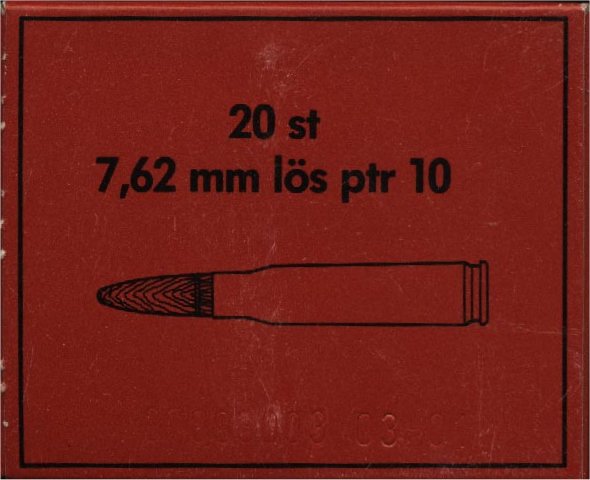 The blanks is always packed in boxes of 20 pcs in a fully red coloured box.

From Rude of Åtvidaberg collection.
IDnumber: 356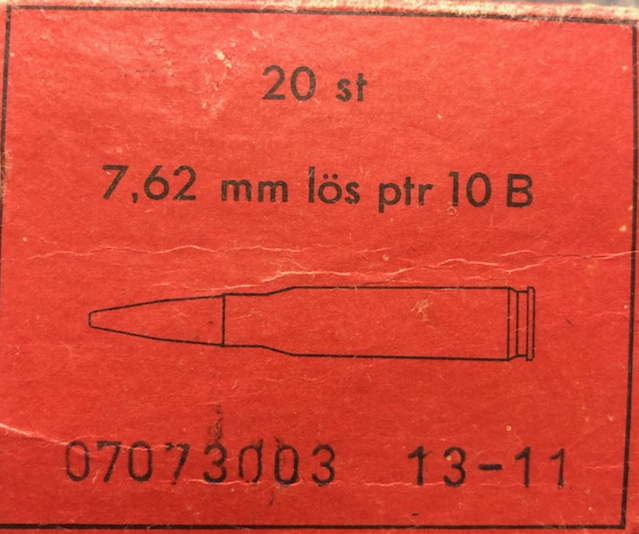 This is a good experimental round. The projectile on these model "B" is made not of wood, but the same plastic used in the Swedish 9x19 blanks. Please refer to the section blanks, ID 168 to see the cartridge.

Courtesy Pinge collection
IDnumber: 66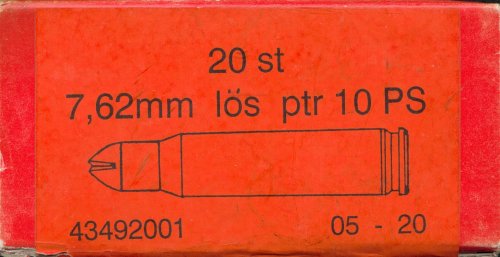 The blanks for the sniper PSG90 is packed in a different type of box than usual. The cartridges is produced by bakkelitt fabrikken in Norway. The box is a "drawer" type, opening on either side.
IDnumber: 296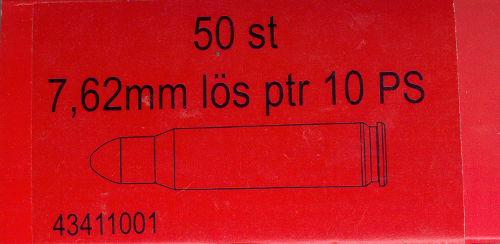 The earlier box of PSG ammunition were delivered in a box of 20 pieces. This box from 2011 is for 50 pieces.
---

Copyright © 2000 Chris
The Swedish military ammunition site

Pcs published: 4