7,62x51


IDnumber: 313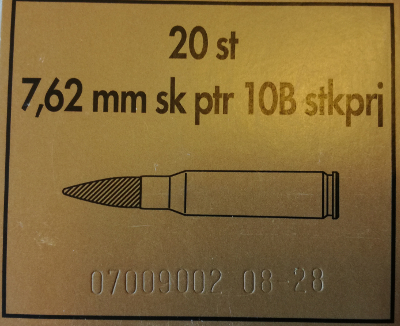 The B prj is of the newer environmental friendlier specification. The projectile has a core of steel instead of lead. The powder and primer is also altered, while the specs is fully the same as the standard ammunition. The designation for the "B" ammunition is
7,62/10B STKPRJ.
This box is produced by Karlsborgs ammunitions fabrik in 2009.

Courtecy Rude of Åtvidaberg Collection.
IDnumber: 63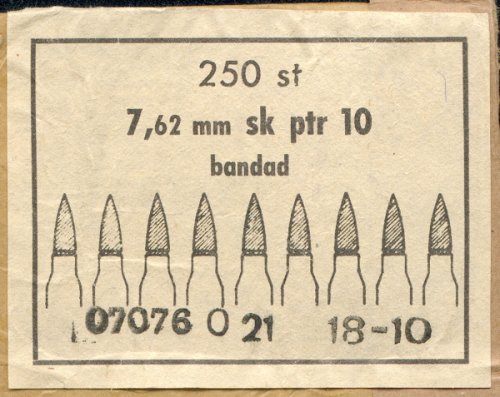 This label comes from the internal carton of metal linked 7,62x51 ammunition. The ammunition is produced 1976 by Karlsborg Ammunitions fabrik.
The text reads out:
250 PCS
7,62 mm ball cartridge (m/)10
Linked
IDnumber: 101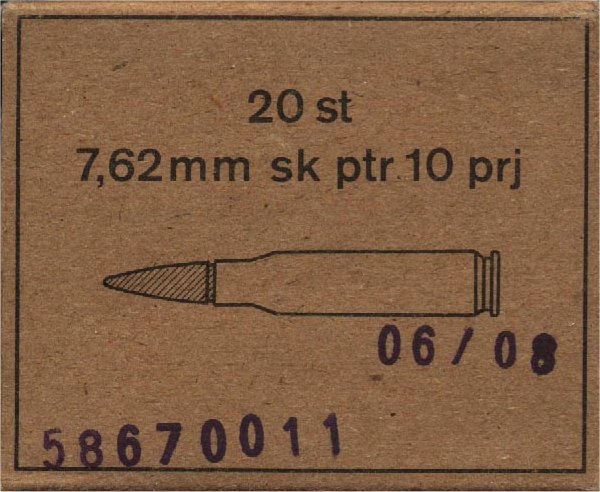 This is a box of 20pcs of 7,62x51 ammunition manufactured in Imported from Hirtenberger, Austria, in 1970.

From Rude of Åtvidaberg collection.
IDnumber: 142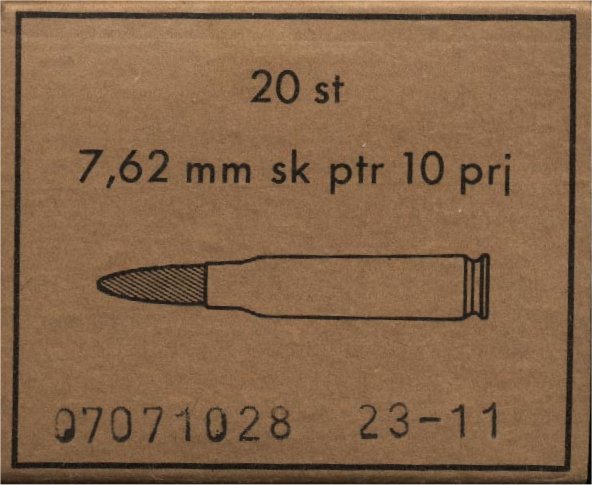 This is the standard box of 7,62x51 ball ammunition. There is only one other type to be found, the one with loading frames. I have not found any real differences in the design of this box since 1962.
This box is produced by Karlsborg ammunition factory in 1971.
From Rude of Åtvidaberg collection.
IDnumber: 164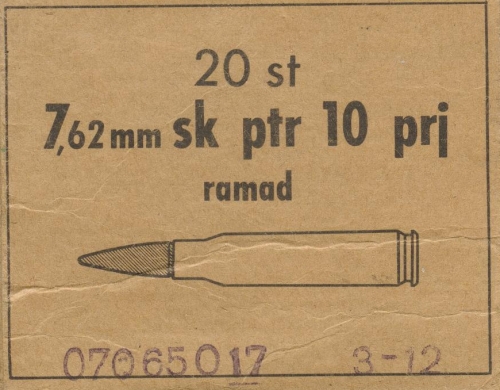 This is a box of ammunition mounted on stripper clips and is packed in a box of 20 PCS. This ammunition is intended for the Pvpj 1110 (Pansarvärnspjäs 1110) (90 mm recoiless Gun), were a spotter rifle in 7,62x51 is mounted in parallel with the main guns barrel.

This ammunition is produced by the Karlsborg factory in 1965
IDnumber: 233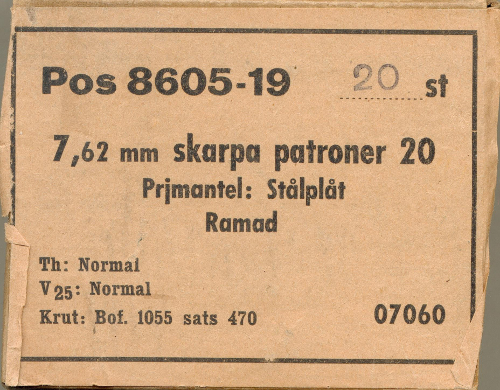 This is from a pre series production. It is manufactured by Karlsborgs ammunitions fabrik in 1960. The AK4, the first rifle in Sweden using this ammunition was introduced in 1964.

From LYEs collection.
IDnumber: 263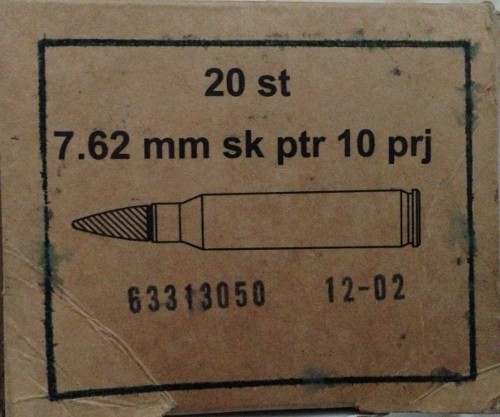 Here is a interesting new box of 7,62x51, produced by factory 633, from the factory GGG, AB GIRAIT?S GINKLUOT?S GAMYKLA in Lithuania, produced 2013. The cases has the factory stamped as GGG, so not following the Swedish standard. The few comments I have seen states it to be a ammunition of good accuracy.

Courtesy Amf 30 collection
IDnumber: 294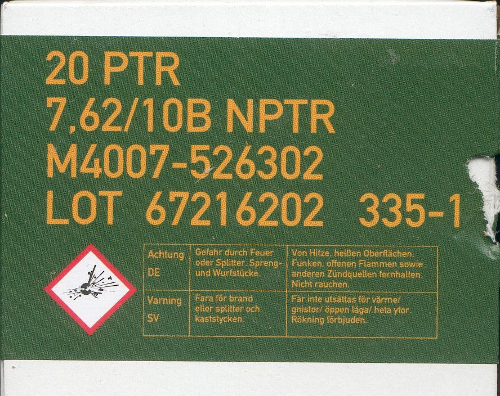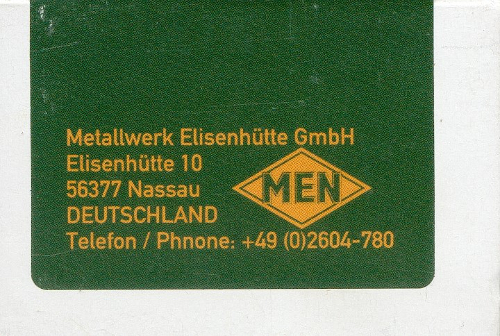 The import of ammunition has normally ended up with a box of Swedish design. This box of 7,62x51 ball amunition is a exception, and also the bottom stamp of the cartridge is "MEN". The ammunition is of "B" specification so the projectile is led free and the cartridge is of a more environmental friendly design.
The ammunition is delivered from the company MEN in Germany.
One "wonderful" thing with the box is the warning in German were maybe Google translate has been used. The German word "Wurfstucke" is translated to "kaststycke", close to "throw pieces". I think they mean "rikoschett", a ricochet as noone I know of in Sweden would use the word "kaststycke" without the need of an further explanation.

IDnumber: 295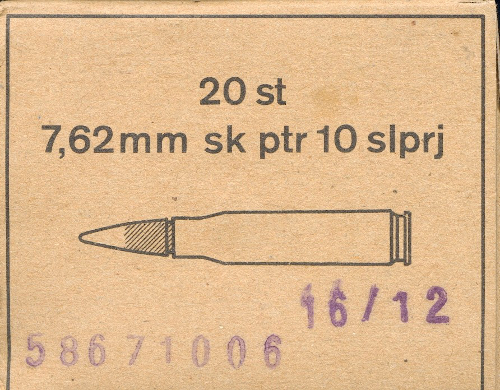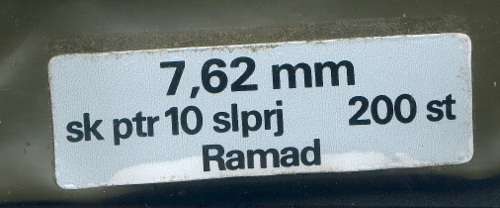 This box of ammunition is intended for the Pvpj 1110 (Pansarvärnspjäs 1110) (90 mm recoiless Gun), were a spotter rifle in 7,62x51 is mounted in parallel with the main guns barrel. The mechanics of the spotter rifle is originating from the Ag m/42B rifle, so suitable to be used with a stripper clip. The box is not labeled as with stripper clip, only the plastic container holding the boxes is correctly labeled. This has kept the box quite unknown actually, as it is difficult to identify it without opening the box.
This ammunition is manufactured by Hirtenberger, Austria in 1971.
The stripper clip in use for the 7,62x51 ammunition is the same as for the 6,5x55 ammunition.

Courtesy AMF 30
IDnumber: 328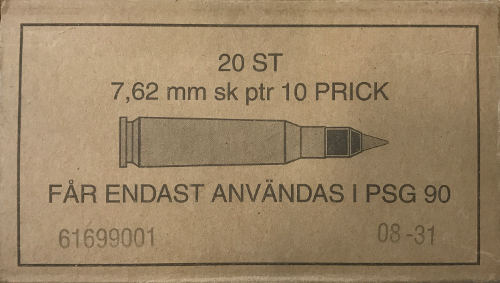 The 7,62x51 PRICK ammunition is delivered in boxes of 20 rounds. The label follows the Swedish standard, but the box itself is of a different format than usual. It does not matter as this is a really exclusive ammunition handed out only to snipers.

The box is marked "May only be used in the PSG90 rifle".

Inside you will find a drawer for two rows of ammunition, made of carton.

This box is produced in 1999, but boxes produced in the year 2000 do also exist.

Courtecy Morten Stoen
---

Copyright © 2000 Chris
The Swedish military ammunition site

Pcs published: 10