5,56x45
7,5mm Nagant
38 Special
9x19
9x20
6,5x55
7,62x51
&nbsp Ball
&nbsp Tracer
&nbsp Blank
&nbsp AP
&nbsp Grenade
&nbsp Training
7,62x54R
8x63
11x17
45 ACP
12,7 Remington
7,62x51


IDnumber: 63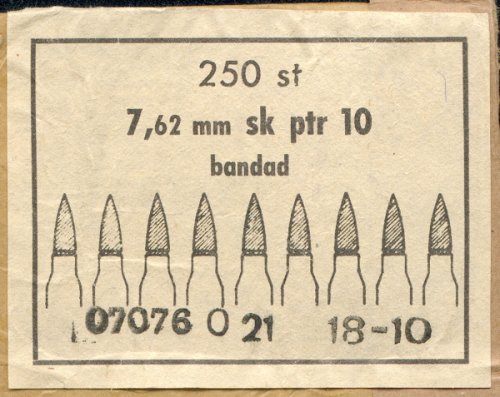 This label comes from the internal carton of metal linked 7,62x51 ammunition. The ammunition is produced 1976 by Karlsborg Ammunitions fabrik.
The text reads out:
250 PCS
7,62 mm ball cartridge (m/)10
Linked
IDnumber: 101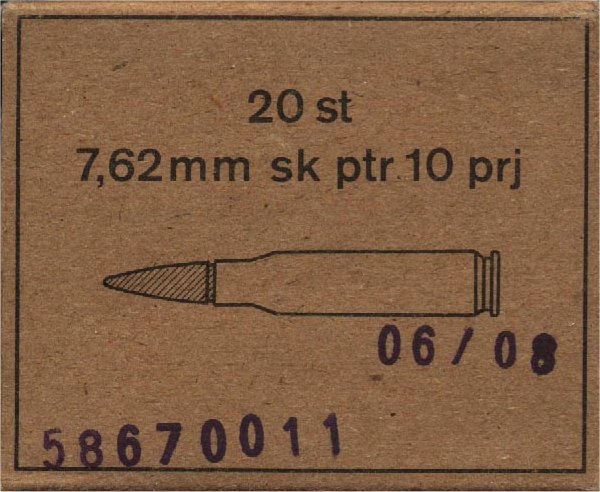 This is a box of 20pcs of 7,62x51 ammunition manufactured in Imported from Hirtenberger, Austria, in 1970.

From Rude of Åtvidaberg collection.
IDnumber: 142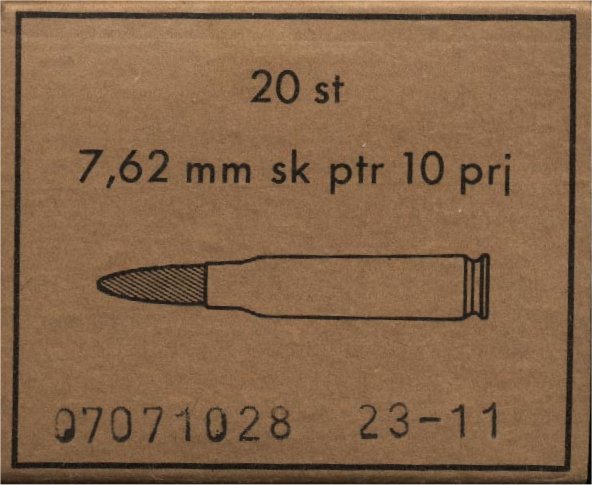 This is the standard box of 7,62x51 ball ammunition. There is only one other type to be found, the one with loading frames. I have not found any real differences in the design of this box since 1962.
This box is produced by Karlsborg ammunition factory in 1971.
From Rude of Åtvidaberg collection.
IDnumber: 164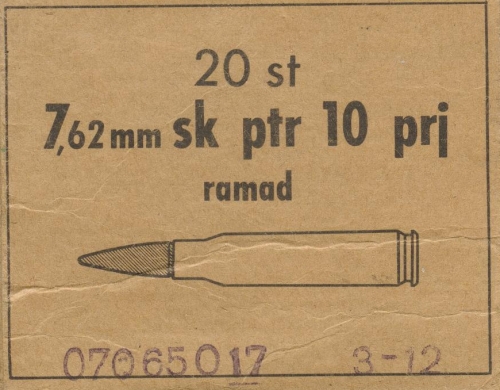 This is a box of ammunition mounted on stripper clips and is packed in a box of 20 PCS. This ammunition is intended for the Pvpj 1110 (Pansarvärnspjäs 1110) (90 mm recoiless Gun), were a spotter rifle in 7,62x51 is mounted in parallel with the main guns barrel.

This ammunition is produced by the Karlsborg factory in 1965
IDnumber: 233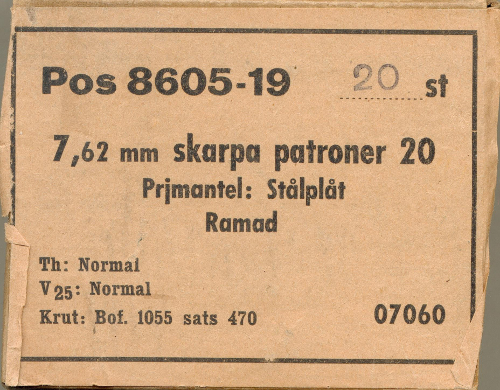 This is from a pre series production. It is manufactured by Karlsborgs ammunitions fabrik in 1960. The AK4, the first rifle in Sweden using this ammunition was introduced in 1964.

From LYEs collection.
IDnumber: 263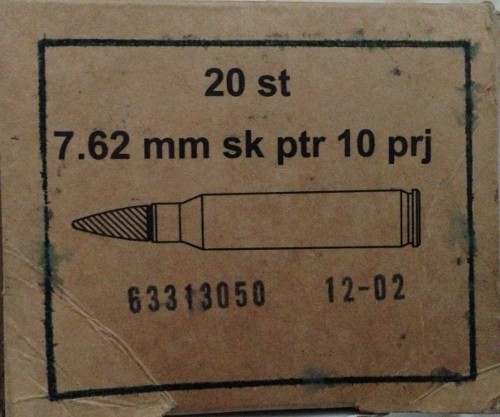 Here is a interesting new box of 7,62x51, produced by factory 633, from the factory GGG, AB GIRAIT?S GINKLUOT?S GAMYKLA in Lithuania, produced 2013. The cases has the factory stamped as GGG, so not following the Swedish standard. The few comments I have seen states it to be a ammunition of good accuracy.

Courtesy Amf 30 collection
---

Copyright © 2000 Chris
The Swedish military ammunition site

Pcs published: 6