5,56x45
7,5mm Nagant
38 Special
9x19
9x20
6,5x55
7,62x51
7,62x54R
8x58RD
8x57 IS
&nbsp Ball
&nbsp -Box
8x63
Jarmann
11x17
45 ACP
11mm Pin fire
12,7 Remington
12,7x99
13x92R
13,2x99
Experimental ammunition
Commercial ammunition
Special purpose
8x57 IS


IDnumber: 71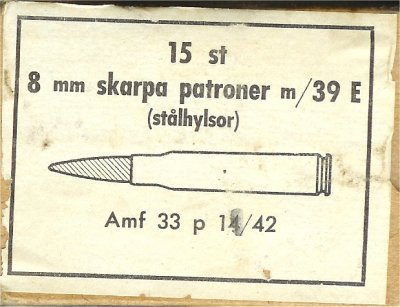 The text says: 
8mm live cartridge m/39E 
(Steel cases) 
Ammunition factory 33 lot 14 of 1942 

1= Lot number
42= Manufactured 1942 
SB= Patr.-Zündh.-u. Metallw.fabrik AG, vorm. Sellier & Bellot, Vlasim
St= Steel case

Courtecy Willem Van Eijk collection
IDnumber: 72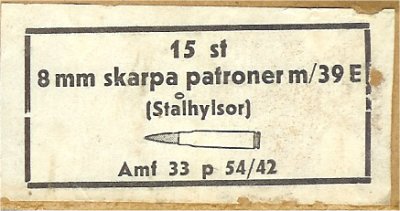 The text says: 
8mm live cartridge m/39E 
(Steel cases) 
Ammunition factory 33 lot 54 of 1942 

29= Lot number
42= Manufactured 1942 
Z= Waffenwerke Brünn A.G., Povazska, plant Povazska Bystrica
St= Steel case

Courtecy Willem Van Eijk collection

IDnumber: 73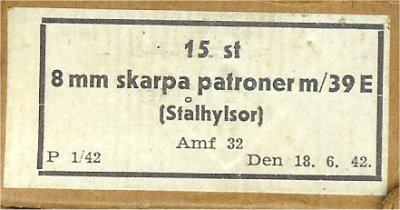 The text says: 
8mm live cartridge m/39E 
(Steel cases) 
Ammunition factory 32 lot 1 of 1942 Made in 18/6 1942 
1= Lot number
42= Manufactured 1942 
Z= Waffenwerke Brünn A.G., Povazska, plant Povazska Bystrica
St= Steel case

Courtecy Willem Van Eijk collection
IDnumber: 264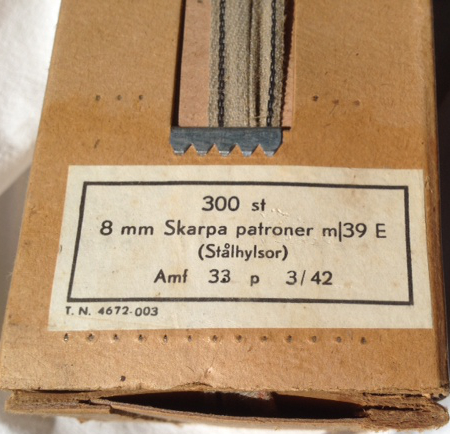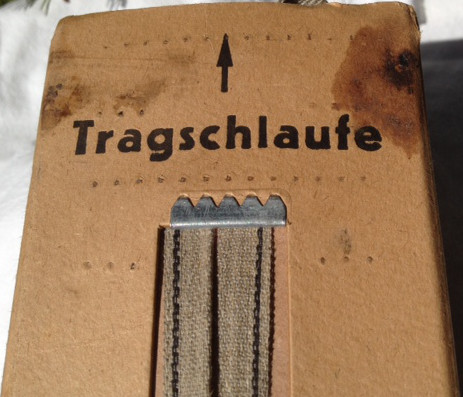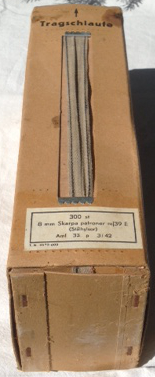 The outer box for the 8mm Tysk of the second delivery contains 300 pcs of ammunition in boxes of 15 rounds.
AMF 33, P3/42
So produced by Patr.-Zündh.-u. Metallw.fabrik AG, vorm. Sellier & Bellot, Vlasim in 1942

Courtecy collector AMF 30

IDnumber: 311
The first shipment of ammunition were delivered in imported boxes, this one in German. No signs of adjustments to Swedish standards. This is produced in (Z) Waffenwerke Brünn A.G., Povazska, plant Povazska Bystrica.
IDnumber: 323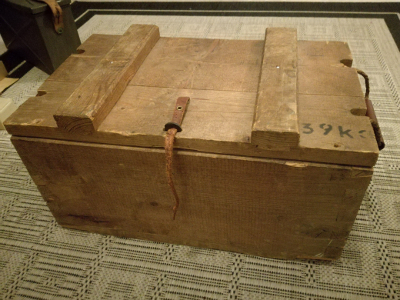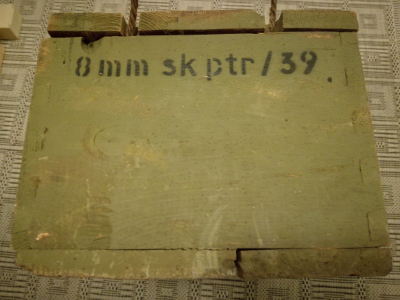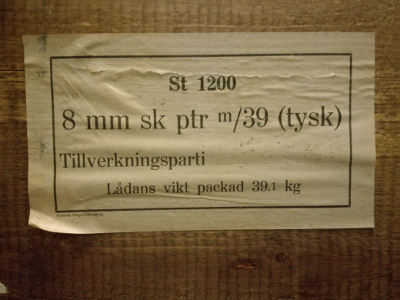 This is a crate from the first order of ammunition from Germany. The label states:
1200 pcs
8mm live cartridge m/39 (German)
Batch
The crates weight loaded 39,1 kg

The box is of the Swedish designation ammunition crate m/98.

The inside of the crates walls and bottom is lined with something looking like tin sheet metal formed as a inner box. The metal container is easy to remove.

Courtecy collector Rude of Åtvidaberg
IDnumber: 324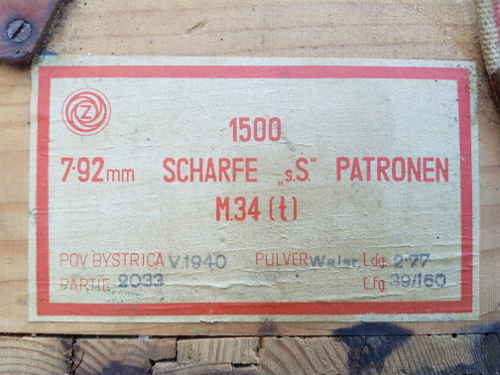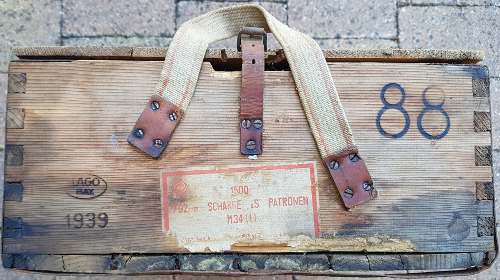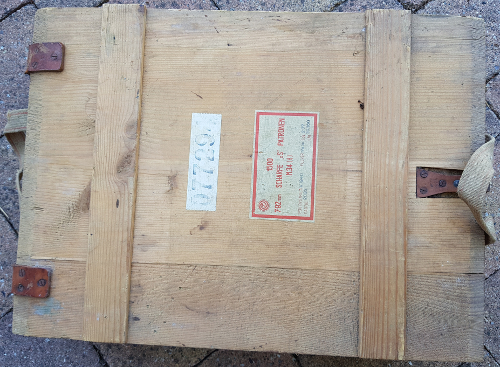 The second order for the 8mm Tysk ammunition came in crates of 1500 rounds. The box type is specified in Sweden only as "German". The labels is in German and no modifications is done for the Swedish language.

Courtecy BF collection

IDnumber: 325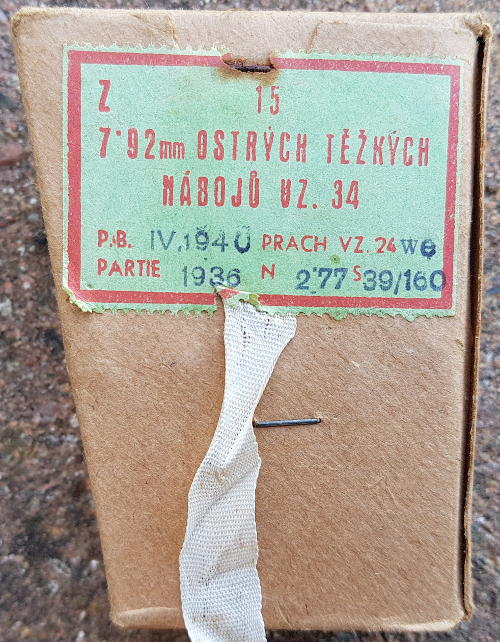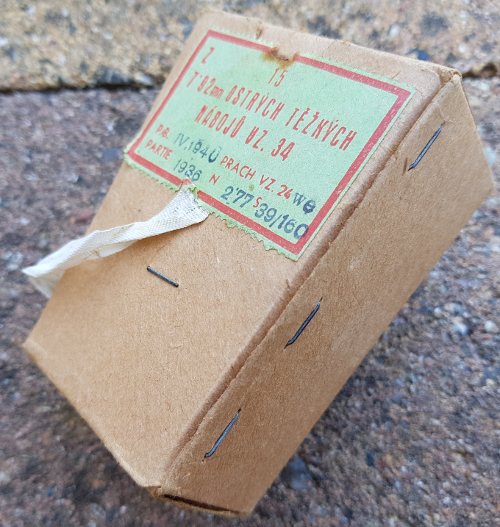 This box that comes from the first order has the text in Czech, no modifications is done to Swedish language. The box is also stated as of the caliber 7,92 mm, while it is specified as 8 mm (8mm German) in the Swedish nomenclature.


Courtecy BF collection
IDnumber: 326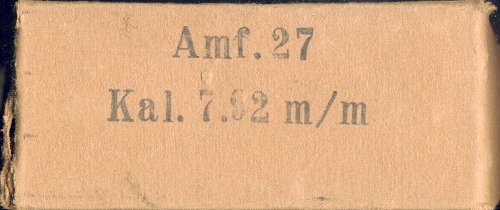 This is the only to me known box of 8x57 IS ammunition manufactured in Sweden for the Swedish defense. It has no other markings than the Amf 27 (Norma) and the caliber in mm. A box manufactured for the civilian market would never have the factory given with the military factory number. No date of manufacturing are to be found on the box or the cartridges. The cartridges is of civilian manufacturing and the head stamp reads "NORMA 8x57 JS" and is of spritzer type.

Courtecy Rude of Åtvidaberg collection.
---

Copyright © 2000 Chris
The Swedish military ammunition site

Pcs published: 9