9x19


IDnumber: 20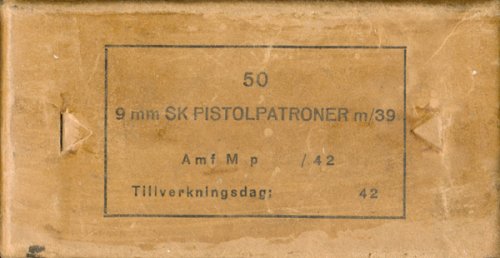 This box has probably had a glued on lable on top of the visible print on the box. The year 1942 is pre printed But the date and batch data is missing.
This early box reads: 
50 
9mm live pistol cartridges m/39 
Ammunition factory Marieberg /(19)42 
Manufacturing day: [missing date]42
IDnumber: 21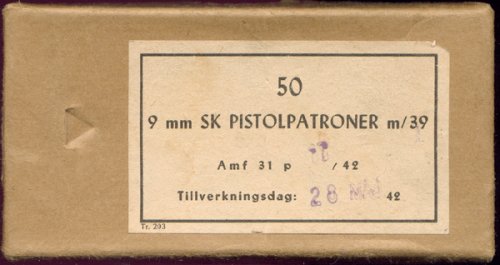 This box is the same kind as above, but has a label on the box instead of the text printed directly on.
It reads:
50
9mm live pistol cartridges m/39
Ammunition factory 31 (Svensk Tändsticks AB Jönköping.) /(19)42
Manufacturing day 28 of May 42

IDnumber: 22
Now we have moved forward to 1944, and the box has a image of the cartridge printed on the label.
This box is manufactured in 22 of August, 1944 by Marieberg factory.

IDnumber: 23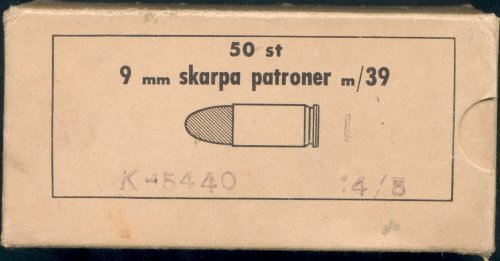 This is the last of the m/39 types of boxes. It is made in Karlsborg in 1954
IDnumber: 24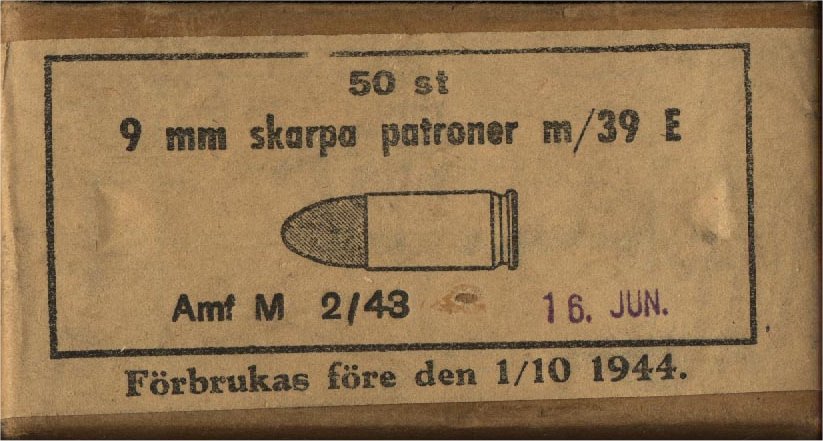 This is a box for the m/39E ammunition. The m/39E has a steel case and has a shorter storage time than the normal ammunition. So this box has an extra text that states "Use before 1/10 1944."
So the storage capacity is put to about one year after manufacturing.
From Rude of Åtvidaberg collection.

IDnumber: 28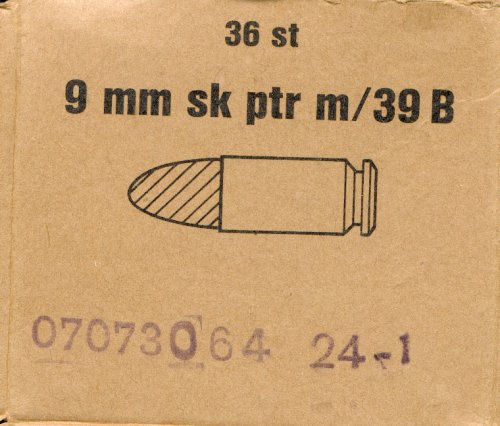 This is the classic box of framed m/39B ammunition. It can be found with some small differences to the image. It has been unchanged in layout for all times.
IDnumber: 30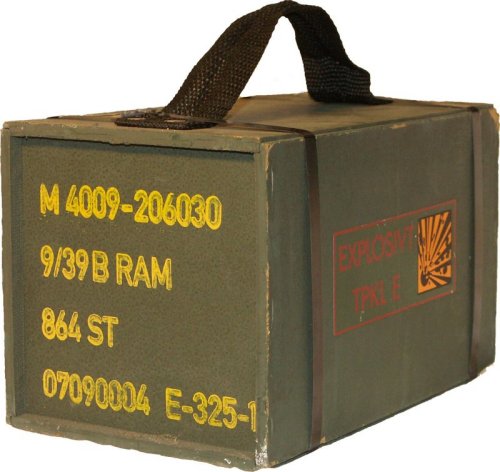 The "ptrlåda 402B" holds 864 rounds of 9mm m/39B, packed in 2 plastic bags holding 432 rounds. Each plastic bag contains 12 boxes of ammunition containing 36 rounds each.
The same box and bags are also used for 9mm blank and gallery practice ammunition.
The picture is taken by Bengt Pettersson.

IDnumber: 31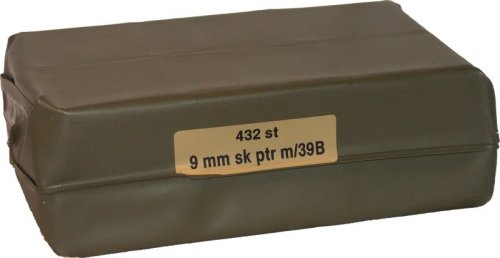 One of the two plastic bags from "ptrlåda 402B".
The picture is taken by Bengt Pettersson.

IDnumber: 33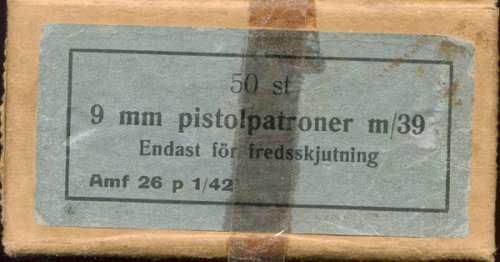 This blue labeled box 9x19 ammunition is containing 50 pcs of live ammunition of less good quality. The label says to use it for peace time shooting only. The box is of batch 1 in 1942 and is manufactured by Svenska metallverken.
IDnumber: 35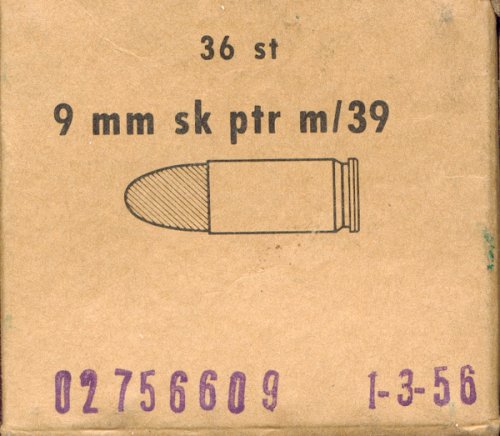 This became a mid-period box. It is a box of 36 PCS of m/39 9x19 ammunition mounted on a speed loading frame. The ammunition was soon to be changed to the m/39B ammunition. This box is manufactured in 1956 by Norma projektilfabrik
IDnumber: 40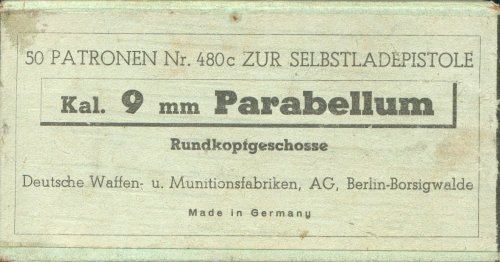 This is a box of German produced 9x19 ammunition imported to Sweden in about1939-1941, together with the Walter P38 pistols that is designated Pistol m/39 in Sweden.

IDnumber: 206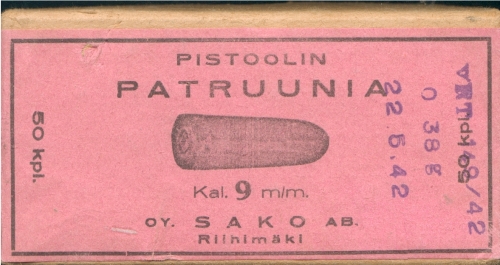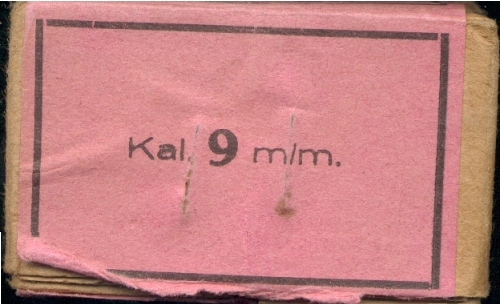 This is an imported box of 9x19 ammunition produced by Sako, Finland, in 1942. I can only guess that the box was imported to Sweden the same year.
IDnumber: 208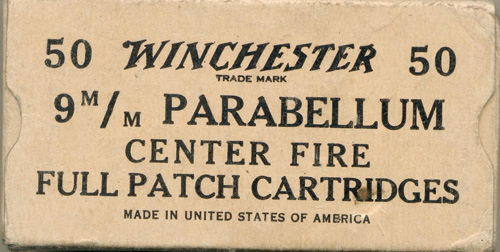 This box is imported in early 1940 and is produced by Winchester in USA. The loads is "full patched" and that means that they are "hotter" loaded than usual and are only to be used in submachine guns.
IDnumber: 231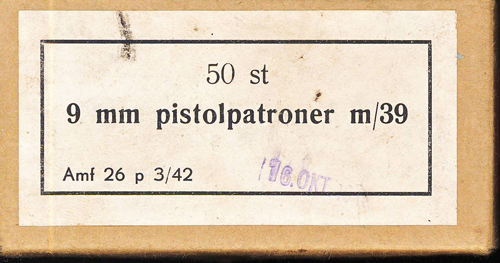 This is the third type of lable I found from 1942. It differs from the rest in al means and has a font and font size I have not seen later or before.
It has ben produced 16th of October 1942 at the A.B. Svenska Metallverken. Västerås.

From Privat collector
IDnumber: 316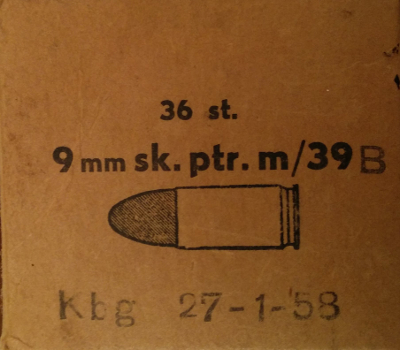 This early box of m/39B ammunition is based on a standard m/39 box of 36 rounds and then rubber stamped with a "B".
It is manufactured by Karlsborg ammunitionsfabrik in 1958.

Courtesy Morten Stoen collection.

IDnumber: 318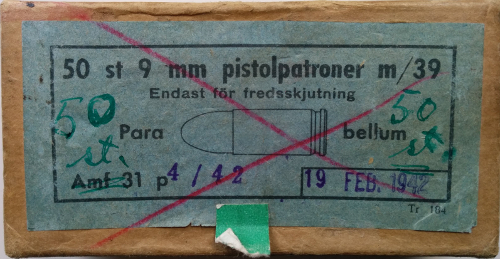 This box might not be in such a nice condition, but scarce at it is, it is wonderful. It is a blue labeled box of 9x19 of lower quality production, a only for training, or only for peace time shooting. It is produced 19th of February 1942.

Courtecy Peter D collection
---

Copyright © 2000 Chris
The Swedish military ammunition site

Pcs published: 16